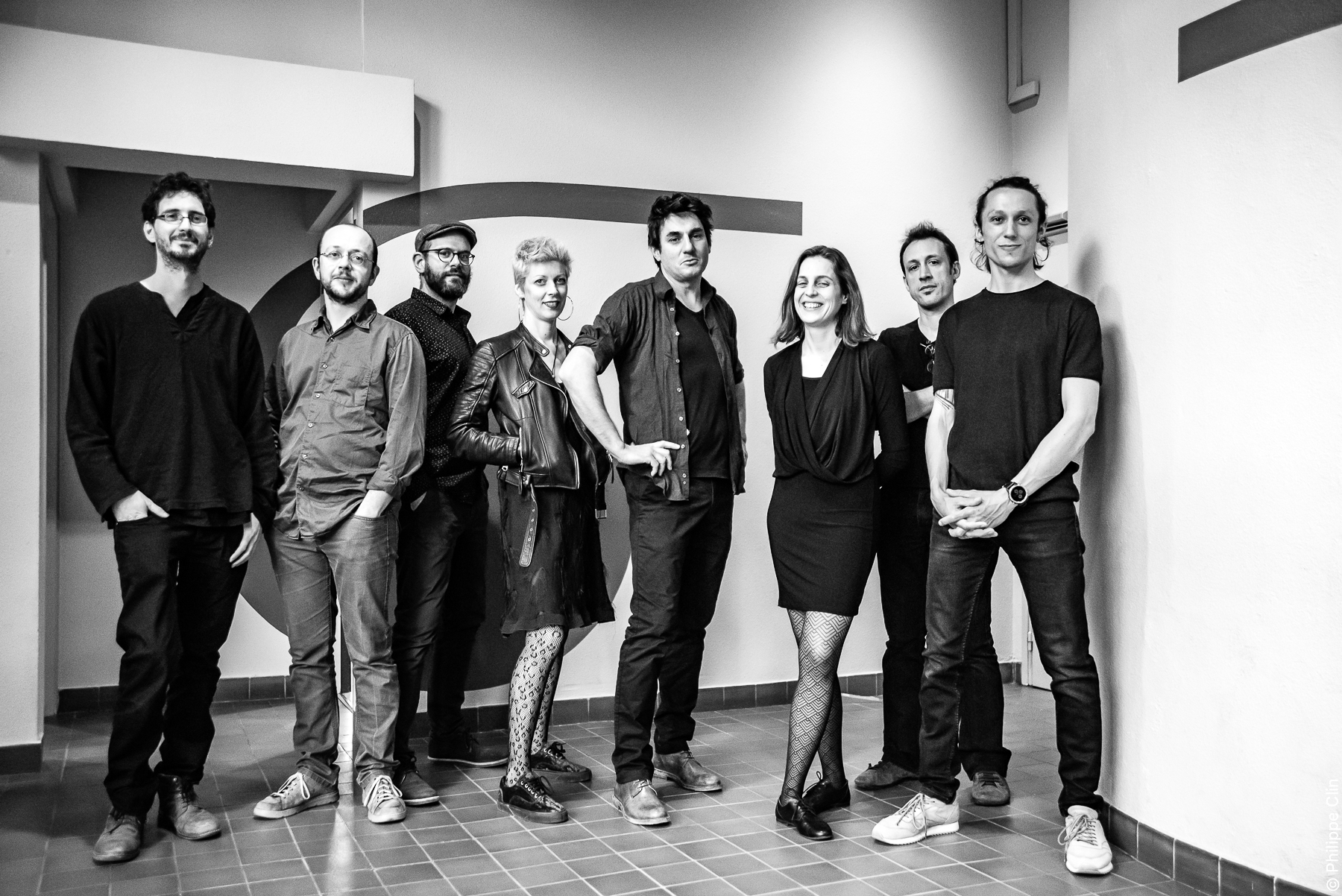 ---
• Emilie Lesbros : vocals
• Léo Pellet : trombone
• Yann Lecollaire : clarinet
• Julien Soro : alto saxophone
• Pascal Charrier : guitar, compositions
• Paul Wacrenier : piano
• Leïla Soldevila : doublebass
• Nicolas Pointard : drums
---
KAMI, A PATH, A STORY,
Like a pilgrimage or a journey of initiation, SPRING PARTY's music leads us into a traveller's inner universe of imaginary landscapes.
Combining written and improvised forms, KAMI OCTET's repertory transports us to within the depths of intimate climes where voices merge and blend their timbres, re-emerging on a wave of energy born of sensual rhythmics.
High-flying improvisations spring out of moments of orchestral power and fragments of poetry recited over chamber music like a fine, suspended thread. Kami Octet's music follows in the footsteps of the great Jazz and Free Music orchestras.
Kami Quintet has transformed into an ensemble of eight musicians to mark its ten years of existence roaming the jazz scenes of France and abroad. Its original identity, dating from its earliest years, is still detectable in the rhythmic and trance-like aspects, but new soundscapes have opened up through the shake-up in orchestration – the natural timbres of the instruments themselves, like sonic substances recalling organic matter, propulse the group from the electronic to the acoustic.
THE MUSIC
The octet brings together musicians of different generations hailing from jazz to contemporary music to improvisation who assemble around a poetic aim; a tale within these various repertories which allows them to deploy their whole personalities. Narrative served by tightly-written language is interspersed with wideopen spaces where the freedom of jazz and improvised music can truly take hold.
Emilie Lesbros' highly skillful voice embodies a character navigating through moving landscapes, opening into an inner world wrought with the dangers of a rite of passage. The main repertory is made up of suites – Mer, La Marche, Le Passage des pensées, Spring Party, Fleurs – which delineate the exile's physical and emotional journey. Leila Soldevila 's double bass and piano replace the electric bass and Fender Rhodes while the voice opens up the sonic spectrum to give some breathing space, Yann Lecollaire 's bass clarinet meets the percussive piano of Paul Wacrenier, whose harmony and rhythm are like sharp-edged minerals.
REFERENCES
Kami Octet is the result, of a logical chain of adventures, a new form awaiting the next mutation. The ear recognizes a common theme which has been running throughout the 13 years of this adventure. This new repertory's influenced by musicians such as Steve Coleman, Carla Bley, Marc Ducret, Magic Malik and, more recently, Morton Feldman and Gérard Grisey. This is why Charrier's music « is part of the contemporary jazz tradition ». Always serving a double poetic narrative of trance on the one side – playing with long rhythmic cycles and superpositions – and sonic textures on the other – electronic effects and instruments' natural sounds.
WRITING
The question behind this new repertoire was : how does one go about turning the sound of a quintet into one for an octet? How do you modify, manage and recreate the equilbrium of a group that's already existed for 13 years? New musical situations have to be thought out. « All this work on orchestration brings about various intensities, a sound which is massive at times and ethereal at others. There's also a theatrical nature in how the pieces lay themselves out, between written and improvised parts; a balance to be found between the different soloists… »
»
---
---
---
Kami Octet à La Garance, SN de Cavaillon (c) Philippe Clin 2019

Kami Octet à La Garance, SN de Cavaillon (c) Philippe Clin 2019

Julien Soro : saxophone (c) Philippe Clin

Yann Lecollaire : clarinette (c) Philippe Clin

Emilie Lesbros - Chant (c) Philippe Clin

Leila Soldevila (c) Emmanuelle Alès

Pascal Charrier - Guitare, composition, direction artistique

Nicolas Pointard - Batterie (c) Philippe Clin

Léo Pellet - Trombone (c) Philippe Clin

Kami Octet à la Garance, SN Cavaillon (c) Philippe Clin

Kami Octet - Concert à La Garance (c) Philippe Clin
Kami Octet - Spring party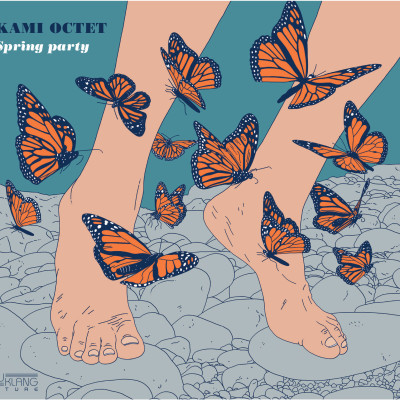 « Spring Party » album de KAMI OCTET – 2017.
The cover of the album is a creatin by Yannis Frier / Atelier Hurf.
Picture of the band (c) Philippe CLIN – La Garance – march 2019